Set of 3 replacement silicone gaskets for stovetop espresso makers
This is a set of three (3) replacement silicone gaskets (pressure seals) for a stovetop espresso maker, also called an Italian coffee maker or Moka Pot.  The seals are made from heatproof silicone and are of a standard size, making them a universal fit for all brands. And these are the replacement parts that need to be replaced periodically.
Universal sizing
The silicone seals (stovetop espresso maker gaskets)  are a standard size. So they should fit all brands including GROSCHE™, Bialetti™, Le Cafetiere™ or any other major brands. But you do have to be sure that you purchase the correct size – if you are looking for replacement sizes for a 3 cup, 6 cup or 9 cup stovetop espresso maker visit here.
What size of Italian coffee maker do I have?
Its easy to lose track of the size of stovetop espresso maker you have. That is since the "cup" measurement that is given to these stovetop espresso makers is not a common one. The cups are sized for European espresso cups, not North American coffee cups. To know the correct size for your espresso maker, check the diameter (outer width from one side of the circular seal to another) of the gasket you have. So you're wondering "What size of gasket do I need for my espresso maker?"  Then match it up to the sizing below
3 cup
6 cup
9 cup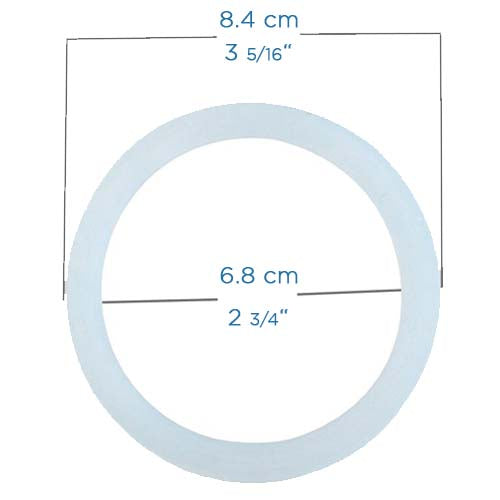 10 cup
The cup sizing is a european coffee cup. So when it says 3 cups thats a small espresso cup, not a large coffee cup. Due to the size naming system of these pots, people in North America often get confused about the sizing. So they  expect that a 6 cup pot will make 6 large coffee mugs or cups, when its only 6 smaller cups of espresso. To check the sizes and capacities you can also check out our Milano Stovetop Espresso Maker for more information.
Will it fit a Stainless steel stovetop espresso maker?
The Stainless steel moka pots usually have the same sizing as the aluminum pots, so it should. However some manufacturers can make custom sizes at times, so its best to measure your seal and make sure that it matches the 3 sizes listed. As long as the size matches you can use the silicone seals in your espresso maker.
I have a white rubber gasket in my espresso maker, will this gasket fit?
Many older coffee makers used rubber gaskets. Those are usually cheaper and don't last as long as the silicone gaskets. Since they are made of hard rubber they tend to harden and leak much sooner than silicone rubber gaskets.  As long as you purchase the correct size, you should be fine with the silicone gaskets to replace the rubber ones.
How often should I change the moka pot seals?
It is recommended that these be changed ever 4 to 6 months in a aluminum coffee pot. Especially if it is in regular use. All seals can eventually crack or get damaged due to continuous tightening and heat and pressure. So they should be replaced for a good, safe seal as needed.
GROSCHE Safe Water Project
Your purchase of this product will fund 50+ days of safe drinking water for someone in need. You make that happen via the GROSCHE Safe Water Project – thanks!
How to make Italian Coffee in a stovetop espresso maker – Moka Pot:
Read our blog article here on how to make the perfect cup of Italian coffee in a moka pot coffee maker.