Steep the perfect cup with this loose leaf tea maker
The ABERDEEN Black from GROSCHE is our newest loose leaf tea maker of the Aberdeen family! This easy to use steeper is the only way you need to make loose leaf tea because there is little to no mess, and the clear design allows you to steep your tea to your personal preference. The Aberdeen Black comes in a convenient 525ml size and can easily sit on most teacups or mugs to pour straight from the steeper into your cup. Want to learn how easy this loose leaf tea maker is to use? Keep reading!
How to make tea with the ABERDEEN loose leaf tea maker
Place your favourite loose-leaf tea in the top of the ABERDEEN. The stainless steel mesh filter within the ABERDEEN is fine enough to strain even the finest teas, like rooibos tea and assam tea so you can pour easily without tiny tea leaves slipping through. Once you've added your desired amount of tea, simply pour water into the ABERDEEN and let it steep to your perfect taste. When you're ready to enjoy, place your ABERDEEN on top of your mug and let gravity do the rest! While it sits on the cup, the pressure from the rim of your mug will push and release a small plug so your tea can simply flow out the bottom, and as soon as you lift the ABERDEEN, the tea will stop flowing.
1. Add Tea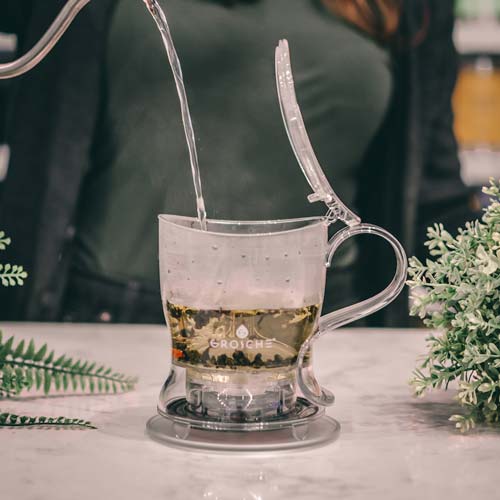 2. Add Water
3. Steep
4. Pour
Bpa-free and food safe Tritan™ plastic
The ABERDEEN is completely made from BPA-free, food safe Tritan™ plastic, even the frame of the filter! Other similar products use polycarbonate, which contains BPA or cheap polypropylene (PP) in their filter mechanisms. Not only is Tritan™ plastic food safe, but it is also very durable and can easily survive all those drops, dings and numerous cups of hot water that flow through it.
How to clean the Aberdeen Smart Tea Maker
The Aberdeen Black Tea Maker is very easy to clean. With the extra long stemmed infuser, you can easily push or pull to remove the inner strainer with very little effort! Then you can simply wash the parts by hand or place in the dish washer for easy cleaning. To reassemble just push the strainer back into the pot until it clicks and then you're done! This easy-clean feature makes this the best and easiest loose leaf tea maker that you will ever own.