Summertime and iced tea go hand-in-hand, it's a fact. Infused with fruit, refreshing tea flavors and loads of ice, iced tea is a great patio party drink, whether that's a party for one or a party for ten.
Iced tea, commonly known as sweet tea in the United States, has many different flavor combos you can try, so let's get steeping! Here are some easy homemade iced tea recipes that taste delicious and will put you in contention for being everyone's favorite host/hostess.
Tips To Brew The Best Homemade Iced Tea
Use Loose Leaf Tea
Fresh is key for good flavor infusion and fresh isn't usually found in a tea bag. Tea bags also prevent the tea leaves from fully expanding, which then cuts off their flavor extraction.
Don't Use Boiling Water
Cold brewed tea is better. If you want to mimic your favorite iced tea from Starbucks, cold water is the way to go. Especially if you're using a white or oolong tea. If you're going to use hot water you have to pay close attention to the numbers because water that's too hot can create bitterness.
Use Enough Tea
The water to tea ratio is the most important when it comes to brewing great tasting iced tea. Make sure you taste test before adding in extra cups of water toward the end of your recipe. Also take into account the water that will come from the ice cubes once they melt.
1. Pomegranate Hibiscus Iced Tea
Ingredients (8 servings)
¼ cup of loose Hibiscus Tea
8 cups of cold water
4-6 ice cubes
1 cup of pomegranate juice
Lemon Wedges for garnish
Directions
Combine loose-leaf tea and 4 cups of cold water into Large Smart Tea Steeper or large jug
Cover with lid and place in fridge overnight or for a minimum of 5 hours
Release tea from Large Smart Tea Steeper into a large pitcher. Or if you're using a large jug, place a Fine Mesh Strainer on a large pitcher and strain the tea
Add in ice cubes, pomegranate juice and 4 more cups of water (or as you see fit)
Garnish glasses with lemon wedges and enjoy
2. Original Lemon Iced Tea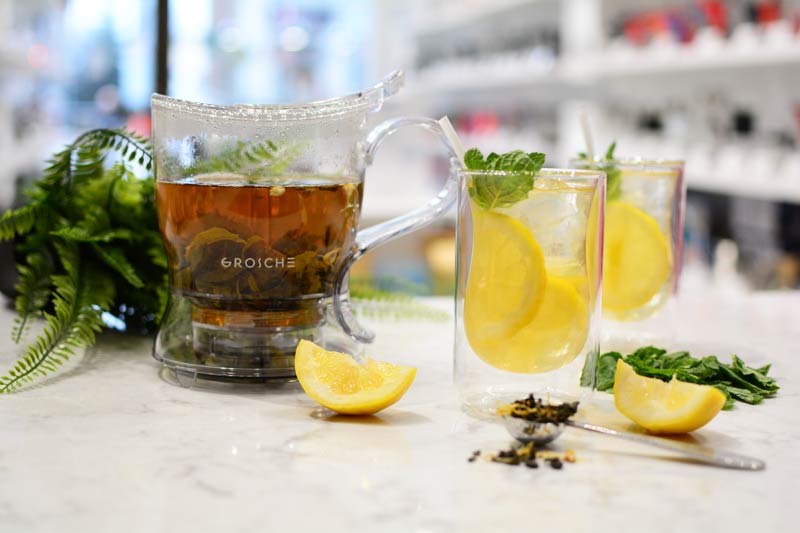 Ingredients (8 servings)
¼ cup of loose Lemon Green Tea
4 cups of water
¾ cup of granulated sugar
¼ teaspoon of baking soda
The juice of 5 fresh lemons
4-6 ice cubes
Lemon Wedges for garnish
Directions
Boil 4 cups of water in a Kettle
In a Large Smart Tea Steeper or a heat-proof pitcher/jug, combine the water, baking soda and sugar. Mix until sugar is dissolved. Add the loose-leaf tea and let cool to room temperature
Place in the fridge overnight or for at least 4 hours
Release tea from Large Smart Tea Steeper into a large pitcher. Or if you're using a large jug, place a Fine Mesh Strainer on a large pitcher and strain the tea
Add in ice cubes, lemon juice and 4 more cups of cold water (or as you see fit)
Garnish glasses with lemon wedges and enjoy
3. Peachy Cream Iced Tea
Ingredients for Tea (8 servings)
Ingredients for Peach Syrup
½ cup of cane sugar or granulated sugar
½ cup of water
1 ½ peaches (thinly sliced)
Directions
Boil sugar, water and peaches in a small saucepan
Lower heat, stir and crush the peaches. Once the sugar is dissolved, cover and remove from heat. Let it steep for 5-10 minutes
Use a Fine mesh strainer and filter the syrup into a seal-able jar. Set aside
Combine loose-leaf tea and 2 cups of cold water into a Large Smart Tea Steeper or a large jug
Cover with lid and place in fridge overnight or for a minimum of 5 hours
Release tea from Large Smart Tea Steeper into a large pitcher. Or if you're using a jug, place a Fine Mesh Strainer on a large pitcher and strain the tea
Add in ice cubes, Peach syrup and 3 more cups of water (or to your taste). Stir mixture
Garnish with Peach slices. Serve over ice and enjoy
4. Lemon Mango Iced Tea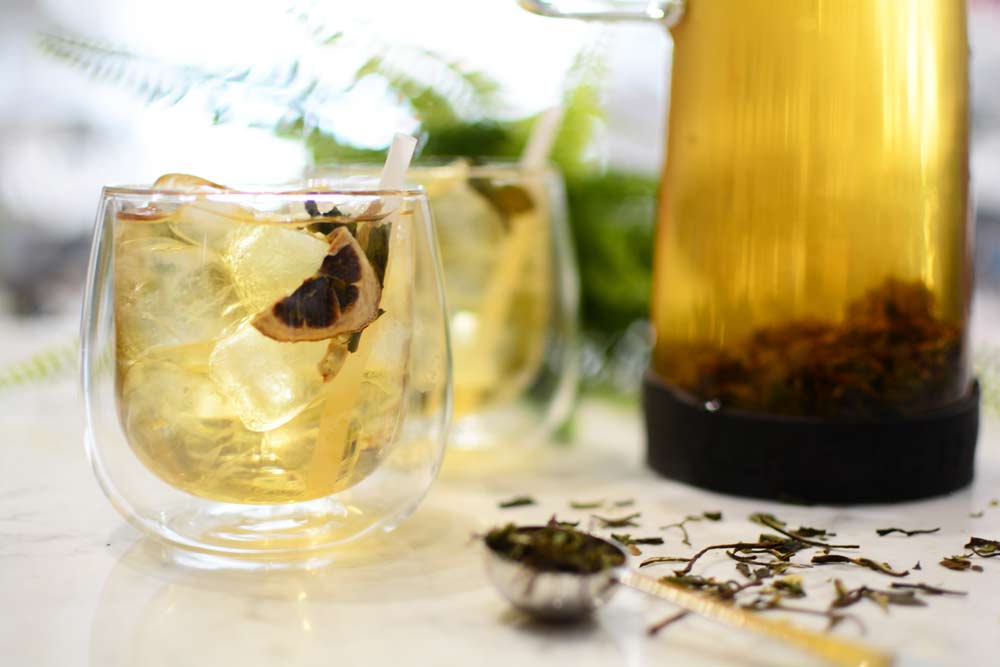 Ingredients for Tea (6 servings)
Ingredients For Mango Syrup
1 cup of granulated sugar
1 cup of water
2 large mangoes, peeled and diced
Directions
Place the water, mango and sugar into a saucepan on low heat until the sugar dissolves
Once sugar dissolves bring heat to medium-high for a simmer
Simmer for 10 minutes while mashing the mango pieces
Remove from heat and cool to room temperature. Then place a Fine Mesh Strainer on top of a jar and strain the syrup. Set sealed jar aside.
Combine loose-leaf tea and 6 cups of cold water into Large Smart Tea Steeper or large jug
Cover with lid and place in fridge overnight or for a minimum of 5 hours
Release tea from Large Smart Tea Steeper into a large pitcher. Or if you're using a jug, place a Fine Mesh Strainer on a large pitcher and strain the tea
Stir in ice cubes and mango syrup
Garnish with mango or lemon slices and enjoy
Other Great Iced Tea Flavors