Let's talk about everyone's favorite coffee bar accessory: Moka Pots.
The Italian invention has been one of the most sought-after coffee brewing devices since it was first introduced in 1933. And now, the Moka Pot (or as some say it Mocha Pot) has stepped up it's game and evolved once again.
Coffee lovers now have the choice between traditional, chic aluminum, and elegant, durable stainless steel moka pots. There are pros and cons of using each, so espresso lovers need to weigh the options before making a decision.
Stainless steel is used for a variety of kitchen appliances due to its reputation for high quality and now it's being put to good use for espresso lovers. But we know that taste can vary.
The question remains would you rather a traditional and less expensive option or do you want modern and high quality?
Keep scrolling, we're going to help you out and give you the run down on the differences between an aluminum and stainless steel moka pot. And we'll also teach you step-by-step on how to use one!
Moka Pots: The budget-friendly alternative from bulky electric espresso machines. Brew an fantastic cup of coffee from home, all you need is an electric or gas stove-top.
What is the difference between an Aluminum and Stainless Steel Moka Pot?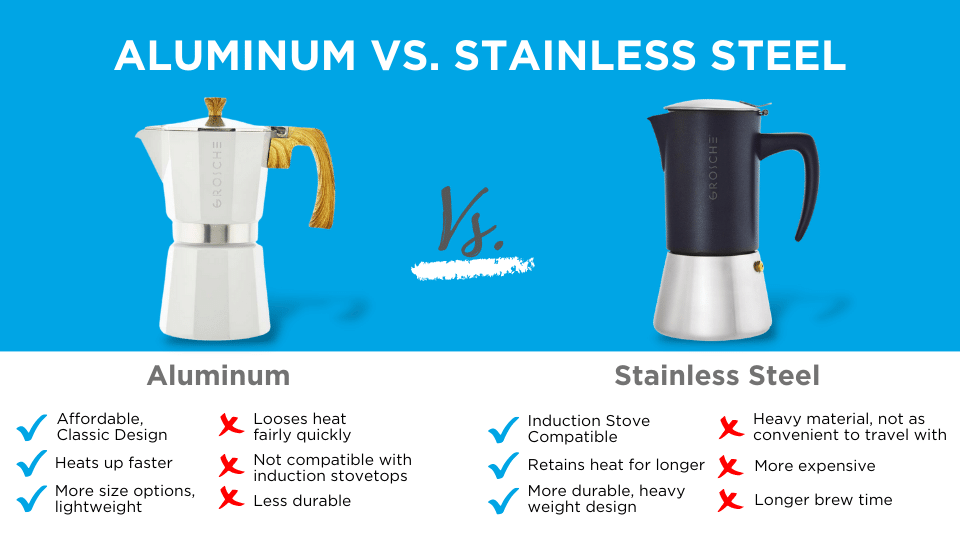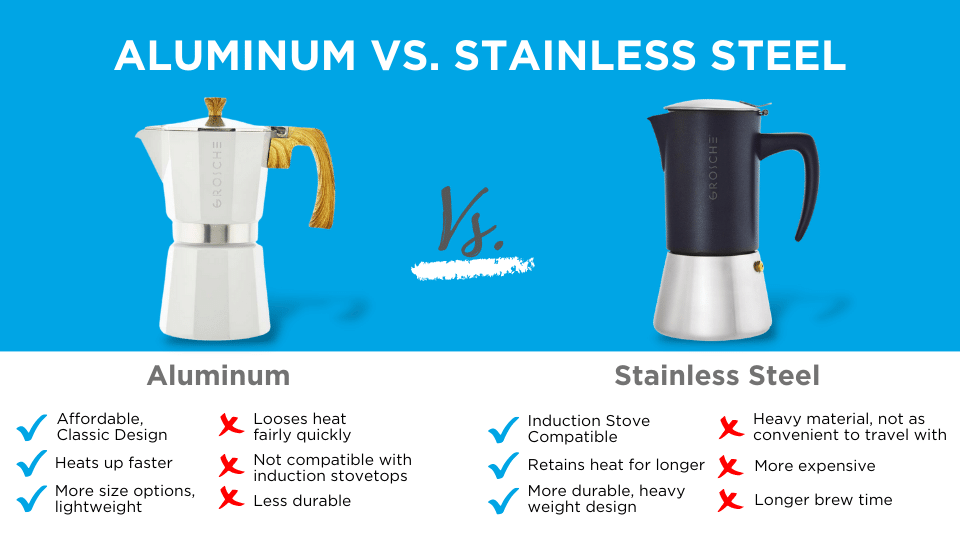 The majority of the moka pots you find today are aluminum. In fact, the very first moka pot created was actually made of aluminum.
This material was chosen as the base of these devices because of its ability to gain and lose heat quickly. It was also chosen due to its affordability and versatility. Aluminum also gives moka pot brands the chance to sell a variety of color combos.
But over time, stovetop espresso experts have come to realize that just because aluminum was the first option, doesn't mean it's the best option.
Top moka pot brands like GROSCHE International still produce aluminum moka pots but they've also made space to broaden their product offerings to include new and improved premium all stainless steel stovetop espresso makers.
Other than the weight, the main difference between stainless steel and aluminum is that stainless steel moka pots work on any type of stovetop, including induction, gas and electric stoves.  
What are the key differences? 
 Heat 
Aluminum: Heats up quickly but does not retain heat well.
Stainless Steel: Takes longer to heat up but better retains heat.
Durability
Aluminum: less durable, more affordable.
Stainless Steel: higher quality, more expensive.
To be more specific, stainless steel moka pots are a more convenient option for the modern-day kitchen with a glass induction stovetop and retain heat for longer periods of time. Aluminum is the tried and true moka pot, lightweight which makes it great for camping, but tends to lose heat fairly quick.
A stainless steel espresso maker is higher quality, meaning the pot itself typically lasts a lot longer than an aluminum moka pot. So from a price point, a stainless steel moka pot may be more expensive than an aluminum model, but may be worth the investment for any coffee connoisseur.
What Is A Moka Pot?
Interested in elevating your morning brew game beyond a typical drip coffee maker but not quite interested in an automatic espresso machine? Moka Pots are the right choice for you!
Moka pots were first introduced in Italy by Alfonso Bialetti. These crafty coffee machines are also commonly known as moka pots, stovetop espresso makers or Italian coffee makers.
They're an easy-to-use Italian percolator for making stovetop espresso coffee and have become one of the most favored brewing methods.
Even though they're an older piece of machinery, their popularity has only increased over time because they make a very rich cup of coffee and a great piece of kitchen décor.
The highest quality stove-top espresso makers, like the MILANO have Italian safety valves, which make sure the coffee percolator can withstand the high-water pressure that develops during the brewing process.
GROSCHE Presents The MILANO Steel
Here is a look at our newest addition to our moka pot family; the MILANO Steel. It's a modern take on an all stainless steel moka pot. It comes in a 6-cup and 10-cup size that's great for serving guests.
How to Make Stovetop Espresso at Home with a Stainless Steel Moka Pot
Step 1: Disassemble your Moka Pot stovetop espresso coffee maker
First, take apart your coffee percolator into its three pieces.
They are:
The bottom boiler
The middle coffee funnel
The top coffee chamber.
Step 2: Add in filtered water
After that, pour filtered water into the bottom chamber. Fill it to just below the safety valve for a classic Italian style Moka coffee.
Safety tip: Don't fill water above the safety valve. The safety valve is there to release pressure in case the pressure is too high. That can be due to any blockages. The safety valve avoids a possible explosion of the pot from high pressure.
Step 3: Add fine ground coffee in the filter funnel
Fill the filter funnel with freshly ground medium to fine coffee grounds. The grounds should be level with the top of the filter.
Slightly pat the grounds down but don't compress them in the funnel or the water will not flow through. Tamping the coffee should only be done in electric high pressure espresso makers.
Step 4: Re-assemble the espresso maker
After that, place your filter into the bottom chamber and screw the upper chamber to the bottom securely.
Make sure the upper and lower chambers are properly screwed onto each other as an improper seal can lead to leaks and could affect the pressure.
Pro-Tip: Make sure to replace your moka pot seal every 4-6 months, especially with regular use. We sell a variety of replacement gaskets and filters for different sizes of stovetop espresso makers.
Step 5: Place on the stove top
Next, put your stovetop coffee maker on low to medium heat of your electric or gas stove (or induction heat top). Make sure the handle is not in contact with the heat.
Don't forget: Aluminum Moka Pots are not induction compatible where as stainless steel moka pots work on all stovetops, including induction cooktops.
Step 6: Once coffee starts to brew, turn heat down to the lowest setting
Once you hear the coffee start to emerge from the filter funnel, turn down the heat and leave it to complete percolating.
Step 7: Coffee is ready!
When the 'gurgling' stops in your stovetop coffee maker and top chamber is full of espresso, your coffee is ready.
Congratulations you have finished brewing coffee in your moka pot!
What are your thoughts?  Leave a comment down below on aluminum versus stainless steel moka pots!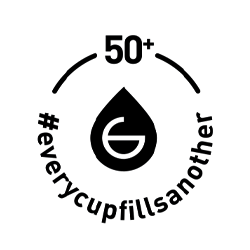 Your next cup can change a life.
We are a values based, family owned and operated brand and are on a mission to change the world, one cup at a time.
Every product sold funds 50+ days of safe water for those in need via the GROSCHE Safe Water Project.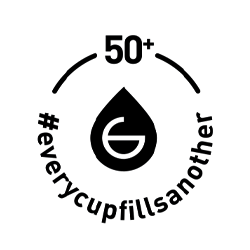 Your next cup can change a life.
We are a values based, family owned and operated brand and are on a mission to change the world, one cup at a time.
Every product sold funds 50+ days of safe water for those in need via the GROSCHE Safe Water Project.
Interested in reading more? Here are some blog articles that might interest you!