Venice – the best glass water bottle with sleeve
We may be biased, but we think our Venice is the best glass water bottle with a sleeve. It has a large capacity of 670 ml or 22.6 fl, oz. It has a wide mouth for easy drinking. And it has a naturally renewable premium bamboo lid with a stainless steel inner to keep your water away from plastics. Oh and did we mention, it comes with a protective and insulating sleeve? Yup, that's why we feel this is the best glass water bottle around.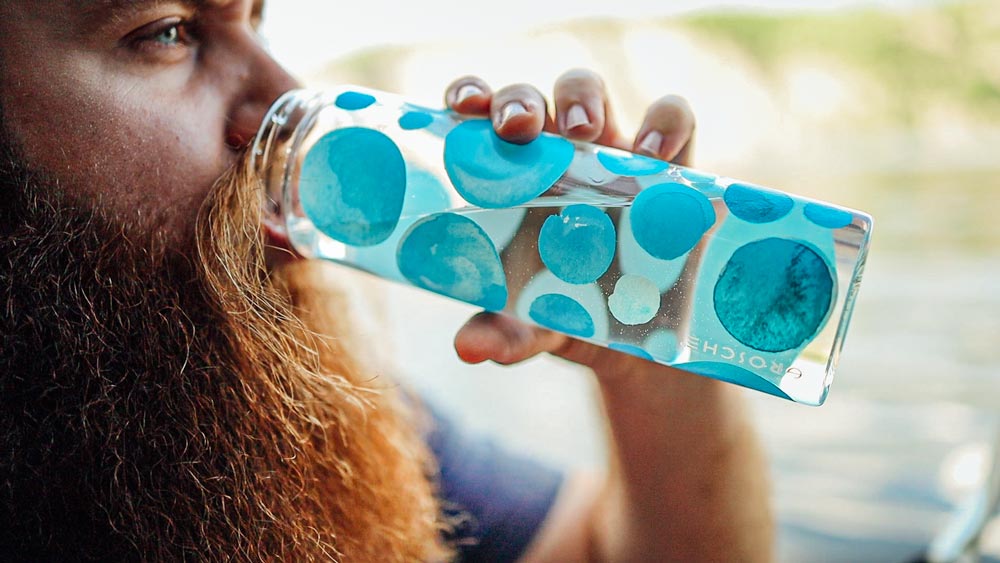 Venice eco-friendly glass water bottle
Borosilicate glass water bottle
The Venice glass water bottle is made from a special heatproof glass called borosilicate glass. This special glass is lighter than normal glass. Yet it is much stronger and more shock resistant. And it is also heat safe. This also means that this bottle is safe for use with hot water. And it is also thermal shock proof. This borosilicate glass is the same type that is used in hospitals and labs due to its heatproof nature.
Eco-friendly bamboo lid with stainless steel interior
We selected a high-quality bamboo lid. Bamboo is a natural and renewable material. Then we added a stainless steel lid liner to the inner part of the lid. This makes it durable and also extra food safe. It is completely BPA and BPS Free. There is no plastic that will touch the liquid in this water bottle with the stainless steel inner. We had to pay attention to these details to design the best glass water bottle anywhere.
The glass bottle itself is dishwasher safe, but we don't recommend it as it may damage the print pattern over time. So we recommend hand washing the bottle and the lid. The lid should be dried after washing. The lid has a silicone seal that makes it leak proof.The neoprene sleeve is washable.
Fits car cup holders and has a convenient to carry strap
The size of the Venice bottle makes it very convenient. It fits all standard car cup holders. Also it fits in most backpack water bottle pockets. This is a tall bottle. It has a height of 9.5″ or 24.5 cm. This height gives it the large capacity of 670 ml or 22.6 fl. oz.
With a stylish borosilicate glass bottle like the Venice staying hydrated is easy. It fits in gym bags and stays safe with the neoprene sleeve.  With the Venice you will avoid plastic and stay BPA and BPS free.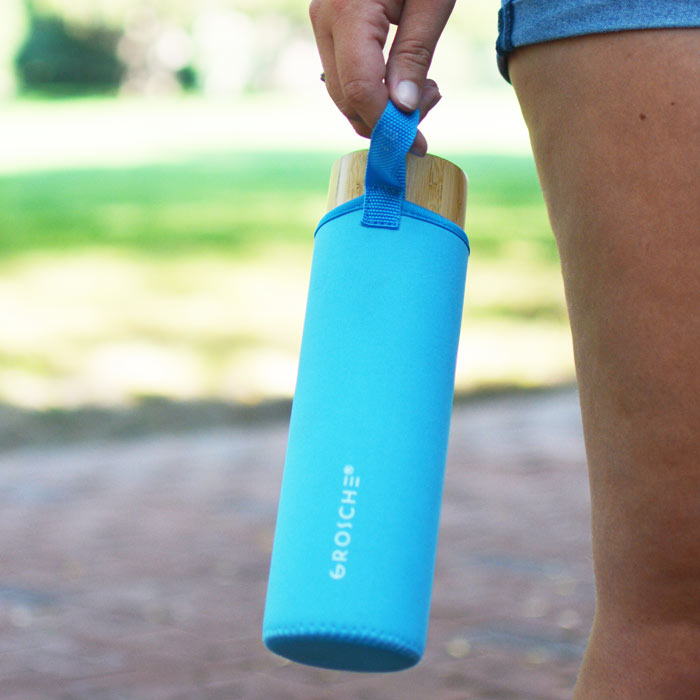 The Venice glass water bottle has a natural renewable bamboo lid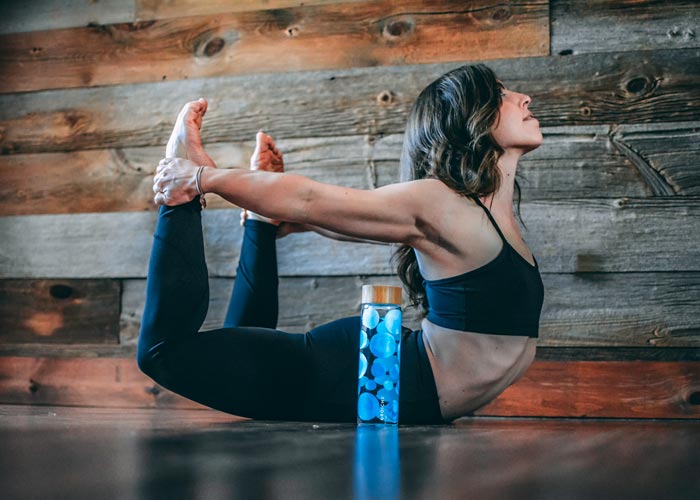 A great reusable option when exercising
All the colors available in the venice water bottles