Venice – frosted glass bottles with insulated protective sleeve
The Venice frosted glass bottles are the perfect hydration companions. They have a capacity of 670 ml or 22.6 fl, oz. and have a wide easy to drink mouth. The lid is made of bamboo, which is an eco friendly material. Also, the lid has a stainless steel inner to keep your water away from plastics. The protective and insulating color matched white sleeve is included with the bottle. Its all these features and more that make people say these may be the best yoga water bottles you can buy. They are also great for the gym, or school as well. Also, these bottles have a wide mouth that make them easy to drink from.
High quality heatproof glass is heat resistant. Perfect school or yoga water bottles.
Work, school, or yoga water bottle with protective sleeve
The Venice is a glass water bottle made from a special type of heatproof glass. This type of glass is called borosilicate glass. Borosilicate glass is notably lighter than normal glass. At the same time it is much stronger than normal glass. And it is also heat safe.  You can safely add hot water into this bottle as well. The included sleeve is made from washable neoprene. It will keep your drink warm or cool around 2x longer than non-insulated bottles. The washable sleeve will also protect the glass water bottle against accidental knocks. This borosilicate glass is the same type that is used in hospitals and labs due to its heat proof nature and high quality. Also people are trying to avoid plastic or metal more and more in their yoga bottles. We think that these qualities make these the best office, school, or gym water bottles.
Eco friendly lid with stainless steel interior
We designed a bamboo lid for these frosted bottles. Bamboo is a naturally renewable wood. We designed a stainless steel cap on the inner part of the lid as well. This makes it more food safe – so no plastic touches your water. This bottle is BPA and BPS Free. There is no plastic that will touch the liquid in this water bottle with the stainless steel inner. We had to pay attention to these details to design the VENICE water bottles.
The glass bottle itself is dishwasher safe, but we don't recommend it as it may damage the print pattern over time. So we recommend hand washing the bottle and the lid. The lid should be towel dried  after washing. The lid has a silicone seal that makes it leak proof. The neoprene sleeve is washable. And  as with all our products they are completely bpa free.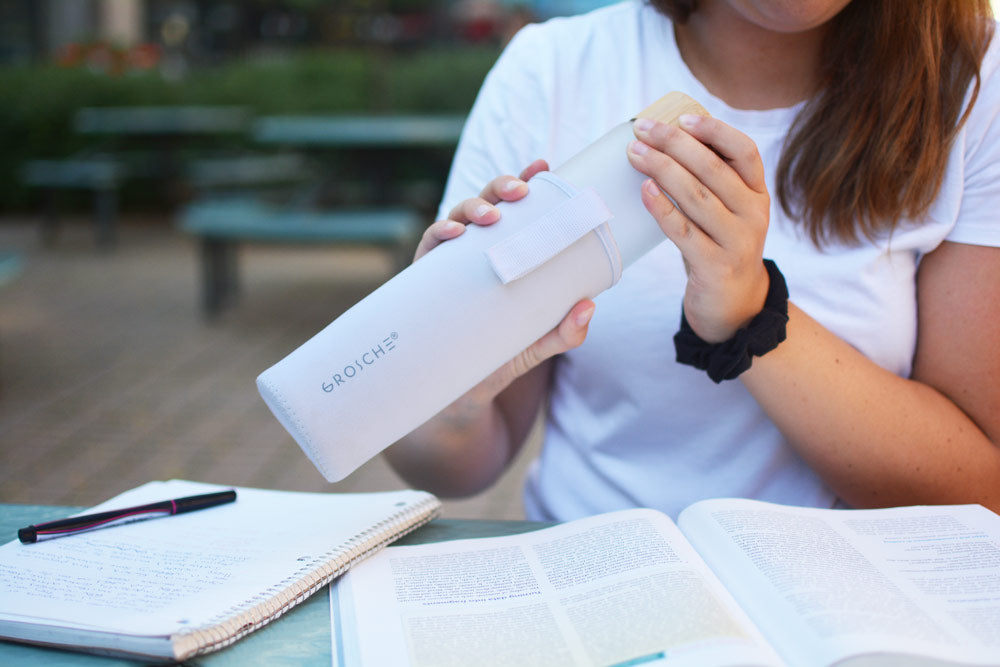 Fits car cup holders and has a convenient carry strap
What features make this the best yoga water bottle?  For one, the size of the Venice bottle makes it very convenient. It fits all standard car cup holders. Also it fits in most backpack water bottle pockets. This is a tall bottle. It has a height of 9.5″ or 24.5 cm. This height gives it the large capacity of 670 ml or 22.6 fl. oz.
Also, with a glass bottle like the Venice staying hydrated is easy. It fits in your bakpacks, school, or gym bags. It also stays safe with the included neoprene sleeve.  With the Venice you will avoid plastic and stay BPA and BPS free. The smooth glass lip on this bottle is easy to sip from. You can avoid single use plastic bottles. And switch to high quality borosilicate glass reusable water bottles. With an included insulating thermal and protective neoprene sleeve.
Choose glass bottles – better for the planet and better for you
Many people are ditching their stainless steel water bottles for glass. Glass is a material that is completely inert, and more easily cleaned and kept clean as well. Single use and disposable bottles are only harmful for our planet. Most plastic bottles sold today end up in landfill or worse, as litter. A reusable bottle is more economical in the log run, and it also helps our planet. Sp, many people prefer it because its a more sustainable option to plastic bottles. Hydration is key for health And the Venice bottles help you stay hydrated in style.
SEE THE OTHER COLORS AVAILABLE