Please note: Sale items are final sale. It cannot be returned, refunded or exchanged.
Product Description
Unimug is a glass mug with chic coloured plastic strainer and lid, whose material features high transparency and durability. It can brew a cup of tea easily in your office and home. Collect a variety of colours to use for daily teatime with family and friends or as a nice gift.
Features
Comes in 4 different colours
350ml/12 fl. oz capacity
Heat-resistant glass mug
Care
Mug is dishwasher and microwave safe, however, strainer and lid only dishwasher safe.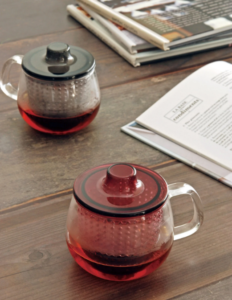 Why use a tea infuser cup?
Infuser tea mugs are the way to go when you just want to make one cup of tea at a time and not a whole pot. The cups come with infusers, so you can easily steep your favorite tea. You can use the lid as a trivet for the tea leaves in the stainless steel tea infuser. They are great for the office as well as for the home. You don't have to resort to the stale office tea bags, and can now enjoy your favorite loose leaf teas in your tea mug with its infuser.
How to make the perfect cup of loose-leaf tea
Simply place your favourite loose leaf tea leaves into the stainless steel infuser in your UNIMUG. Pour hot water over the leaves and cover it with the lid. Let your tea steep until it has reached the desired strength. Remove the lid and infuser and enjoy! The lid also doubles as a trivet for your infuser. How cool is that?
GROSCHE Safe Water Project
GROSCHE is able to provide 50+ days of safe drinking water to someone in need with your purchase of this mug. We are a Social Enterprise and certified B Corporation. Being a B-corp is a certification for businesses that share a mission to do good for the world. We are also recipients of B Corp's "Best for the World" Award.