Shark Tea Infuser Ideal for 1-2 Cups
The SHARK BITE tea infuser features a blue silicone shark head and 18/8 stainless steel infuser. The mouth of the shark acts as a holder to keep your infuser secure on your mug whiles it steep. This shark tea infuser is ideal for making 1-2 cups of loose leaf tea in a mug. Simply remove the shark head, put in your loose leaf tea, place the top back on and set in your mug. Once it's done steeping, remove and enjoy.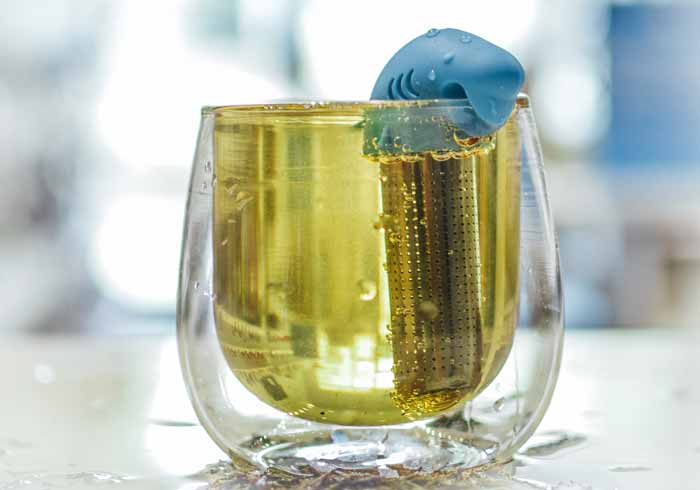 Food-grade Silicone
This infuser features a soft-touch silicone top to protect your hands from burning after steeping has completed. The SHARK BITE infuser is food-safe and completely flavor-neutral. The silicone top is easy to remove, clean and close. To clean this infuser, compost your tea leaves; rinse it under hot water and use a soft sponge with a bit of detergent.
Steep the Perfect Cup
The shark tea infuser can be used for loose leaf tea or spices. The extra fine mesh infuser keeps your tea free from any particles while allowing water to steep the leaves. This infuser is suitable for all loose leaf teas; however, we do not recommend using it for ground teas such as matcha.
GROSCHE Safe Water Project
GROSCHE is a social enterprise and certified B Corp. We're using the power of business to change lives for the better. That's why, for every GROSCHE product sold, we provide 50+ days of safe drinking water to someone in need through the GROSCHE safe water project. So when you fill your cup with coffee or tea, you're filling someone's cup with safe drinking water.