The newest addition to the Milano family
Our Milano Stovetop espresso makers are very popular. Our customers have been asking us to make a stainless steel coffee maker. So now we welcome the Milano Steel!
With the same attention to detail, the Milano Steel is a stainless Steel Stovetop espresso maker. You will feel the quality the moment you hold it in your hands. The Satin finish, the subtle curves of the handle, and the matte black powder coating make this a classic and stylish way to make stovetop espresso in a stainless steel moka pot.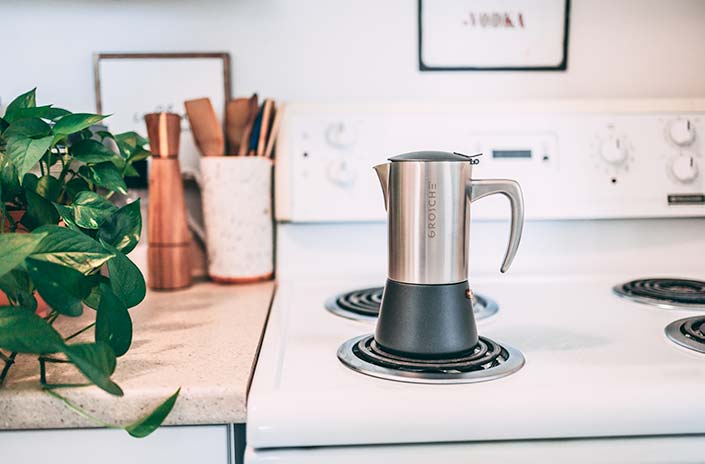 Easily brew yourself the richest cup of coffee
This type of stovetop coffee maker brews a thicker and richer coffee than a normal electric coffee percolator. This type of coffee is called Italian coffee, moka coffee or stovetop espresso.

Step 1: Water
Add water into the boiler chamber. keep the water level below the brass safety valve.
Step 2: Coffee
Add fine ground coffee ground into the funnel. Do not tamp or compress the grinds.
Step 3: Insert funnel
Add the coffee funnel to the boiler. The hot water will brew the coffee like a percolator.
Step 4: Assemble and brew
Attach the top onto the boiler & place on stove top on LOW heat for a consistent brew.
Stainless Steel vs. Aluminum
Many people prefer a stainless steel coffee maker over an aluminium moka pot. This stainless steel coffee maker can be used on all types of stove tops like gas stove, induction stove, electric coil stove, propane stove, etc. Our aluminum moka pots are also high quality. However, we recommend that people not use aluminum on induction stoves because the material does not heat properly. Now with the stainless steel Milano, anyone can use this moka pot on any stovetop!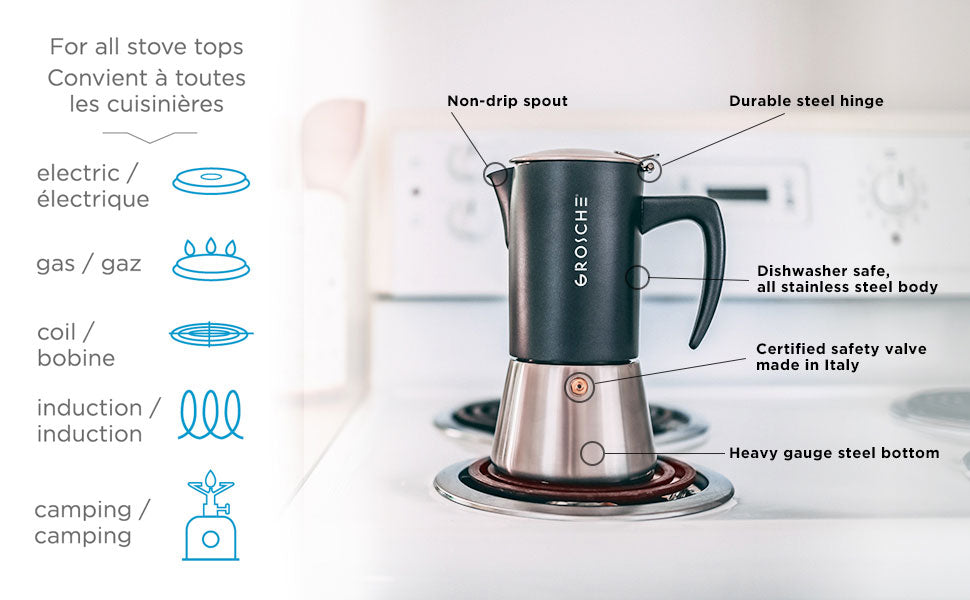 Versatile and dishwasher safe
The Milano has been especially designed to brew smooth and rich moka coffee with the fine stainless steel boiler, body, and funnel as well. It is built to be heavy, and strong, and it will last you a lifetime. Replacement silicone gaskets are available for this espresso maker. However, you can also use it as a Greca coffee maker, a cuban coffee maker, a stovetop espresso machine, or a Italian style coffee percolator.
This type of stovetop coffee maker brews a thicker and richer coffee than a normal electric coffee percolator. This type of coffee is called Italian coffee or moka coffee or stovetop espresso. This stainless steel pot is dishwasher safe, and safe for all stovetops.
Available in 6 cup and our largest 10 cup capacity
This stainless steel stovetop espresso coffee maker is available as a 6 cup coffee maker which makes 9.3 fl. oz or a 10 cup coffee maker which makes 16.9 oz of Italian style Moka espreso coffee. Each "cup" of coffee made with the Milano steel is equivalent to a single shot of espresso. Our largest Moka pot yet, the Milano steel 10 cup is perfect for entertaining to make coffee for all of your guests that will be sure to impress!

GROSCHE Safe Water Project
Every time you buy a GROSCHE product, you are funding 50+ days of safe water for people in need via the GROSCHE Safe Water Project. As of 2019 GROSCHE has funded over 115 Million Days of safe water for people in need in over six different countries.GROSCHE is a Benefit Corporation that has been widely recognized for its social work. GROSCHE pays for this social development work with the sales of its coffee, tea, and hydration related products. B Corps are widely regarded as the highest standard in social and ethical business, and this encompasses the company's products, supply chain, relationships, operations, and products as well. All their products are made in ethical ways to meet social and environmental standards that a B Corp has to maintain. GROSCHE is also a Living Wage Employer and champion.

Personalize

 
Your Milano Steel
"Coffee Time" in large VOGUE  font
3 easy steps to your custom personalized moka pot
Select your product colour & size
Choose a style and size for your Milano Steel Moka Pot that matches your unique style. Our stainless steel moka pots come in 2 different colours; Black & Brushed. They also come in 2 different sizes; 6 cup and 10 cup.
Add your personalized text
Make your moka coffee maker truly encapsulate who you are with the option to add text or graphics. From your name, your initials, a fun phrase or one of our custom graphics the possibilities are endless.
 Choose your font size & font
Big or small, bold or cursive, the limits for how you personalize your moka pot coffee maker is only your imagination! We have four fonts for you to pick from: Photograph Signature, Vogue, Lemon Milk or Helvetica Neue.
Large Font Styles
Small Font Styles
Get Inspired
"Ben's Moka Pot" in small lemon milk font
"Good Morning" in large photography signature  font
"Ben's Moka Pot" in small lemon milk font
"Good Morning" in large photography signature  font