CONDITION NOTE: This is a new item with damaged or missing packaging.
A twist on the classic MADRID French press – in rose gold
Our premium MADRID French press has always been a favourite. That's why we took it and gave it a special twist. Enters the MADRID Rose Gold French press. Just like the original, the MADRID's design allows full flavour extraction of your coffee and loose leaf tea within minutes. With a dual filter, easy to hold handle, and a 1000 ml (34 fl. oz) capacity, this press will make your morning coffee routine a breeze. What's more, you can even use it brew cold tea or coffee!
Dual filter system
The MADRID rose gold French press has two coffee filters. These filters ensure the coffee grinds or loose tea leaves stay in the press preventing residue from getting into your cup. The main filter is all stainless steel and is located at the bottom of the plunger. The second filter is in the lid. Simply turn the lid to close the press while your coffee or tea steeps. This will ensure that your drink will stay hot longer.
Use it as a tea press!
Not only is this coffee press perfect for brewing coffee, but it's also perfect for brewing your favourite loose leaf tea. Simply add your loose leaf tea into the beaker, pour in your water, let it brew, press it and enjoy. Because this press is large in capacity, the press allows the tea to float freely and expand. When the tea is able to expand, you get full flavour extraction from the leaves.
Making loose leaf tea in a GROSCHE Madrid Rose Gold French Press
Premium quality PYREX® glass
The MADRID Rose Gold French press features a fine-crafted copper plated steel housing and a PYREX glass beaker. This beaker is durable, heatproof and removable which is convenient for a thorough washing.
How to make French press coffee
Add your coarse ground coffee into your French press. Pour in 90-96 degrees water a quarter full. Give it a stir then fill to the top. Place the lid on top and let it brew for 3-5 minutes. Once complete, push the plunger down and enjoy! Learn how to perfect your brew the Best French Press Coffee Water Ratio.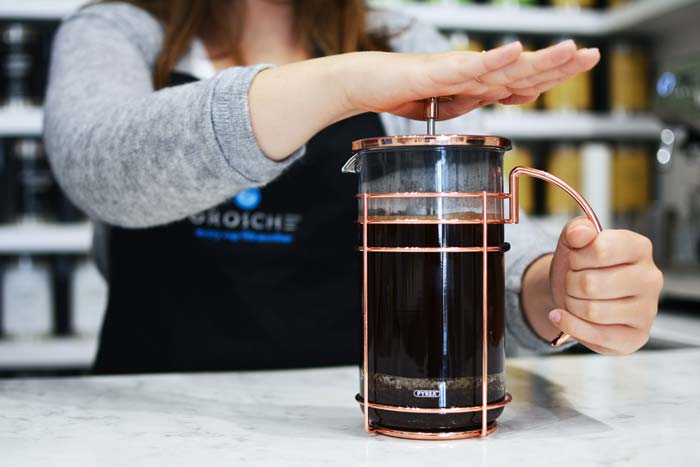 How to clean a French press
We're often asked how to properly clean a French press so we've gone ahead and made a blog post to make things easy. Read it here.
GROSCHE Safe Water Project
Over 783 million people lack access to clean water. Let's change that. Every GROSCHE product sold provides 50+ days of safe drinking water for people in need. Learn how:  #Everycupfillsanother