CONDITION NOTE: This is a new item with damaged or missing packaging.
Elegant teapot with infuser for the perfect cup of tea
The GLASGOW from GROSCHE is an elegant teapot with infuser.  Its 1000 ml / 34 fl. oz. capacity is great for making two to three large cups of loose-leaf tea at a time. Perfect for an after dinner setting, the borosilicate glass allows you to see and experience your loose-leaf tea infusion perfectly.
Premium-quality borosilicate glass
The GLASGOW is an all-glass teapot with infuser made of hand-blown borosilicate glass, which is a high-grade thermal glass. It's heatproof, can easily withstand boiling water and will never go cloudy even after years of use. The GLASGOW does not have any plastic or metal parts. It is ideally suited for tea lovers who want to make sure there are no elements that could impart a flavour to your tea.
Ideal for loose-leaf teas and blooming teas
The GLASGOW teapot with infuser is not only suitable for all sorts of loose-leaf teas such as black teas, green teas and white teas but also for blooming teas. Simply remove the glass infuser, place the blooming tea in the bottom of the teapot and watch your tea blossom.
How to make loose-leaf tea
Pick your favourite loose-leaf tea and put it into the glass infuser of the GLASGOW.  Gently pour hot water through the infuser into the teapot. The tea will gain colour and expand comfortably in the infuser giving you a flavourful tea experience. Once your tea has the desired intensity, remove the infuser from your tea and replace the lid.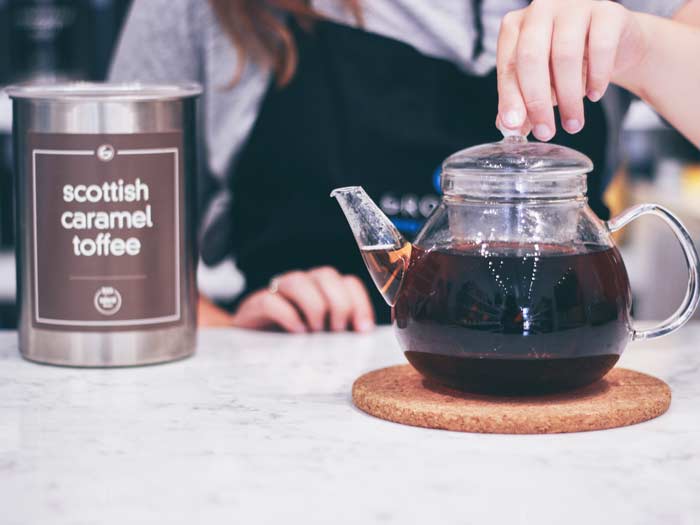 Easy to use, easy to clean
The GLASGOW infuser teapot is easy to use and perfect in combination with a GROSCHE SAHARA teapot warmer to keep your tea warm for hours. The glass teapot is dishwasher safe. However, we recommend simply rinsing it out or hand washing with soapy water to avoid accidental breakage in the dishwasher. Never use harsh metallic scouring pads or metal spoons in a glass teapot.
GROSCHE Safe Water Project
GROSCHE is a Social Enterprise and a certified B Corp on a mission to do good in the world. For every product sold, GROSCHE creates 50+ days of safe drinking water for someone in need through the GROSCHE Safe Water Project.