Please note: Sale items are final sale. It cannot be returned, refunded or exchanged.
Elegant teapot with infuser for the perfect cup of tea
The BUDAPEST from GROSCHE is an elegant teapot with infuser.  Its 1000 ml / 32 fl. oz. capacity is great for making two to three large cups of loose-leaf tea at a time. Perfect for an after dinner setting, the borosilicate glass allows you to see and experience your loose-leaf tea infusion perfectly.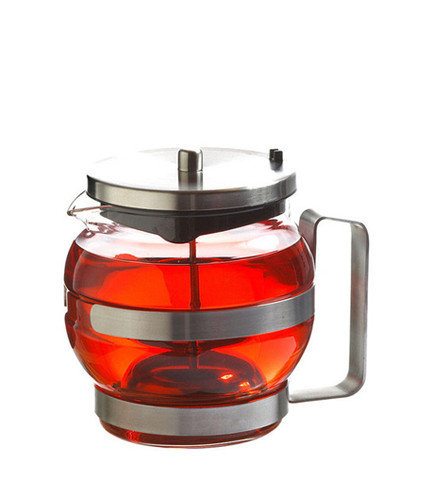 Classic and Subtle European Inspiration
The high-quality contemporary look of the Barcelona is an elegant centerpiece for any table setting. The Budapest will make 4-5 cups of tea at a time.  It is the perfect teapot to perfectly steep your teas exactly the way you like them.
How to make loose-leaf tea
Pick your favourite loose-leaf tea and put it into the glass infuser of the BUDAPEST. The Budapest Stainless steel infuser teapot solves that problem with an infuser that can be raised up when the tea is perfectly steeped for you, avoiding any over-strength or bitter teas. You can even add in more hot water into the pot, and just lower the infuser to re-steep your loose leaf teas.
How to Brew
Heat desired amount of water in a kettle (temperatures depend of type of tea). Glass teapots should not be used on the stovetop.
Add 1 teaspoon of loose leaf tea per cup of water to your teapot.
Pour the heated water over the loose tea leaves into the teapot
Let tea steep. Tea steeping times differ between teas.
Care Instructions
Do not microwave.
Hand wash all parts with soap and warm water. All parts are dishwasher safe, but take care as other items knocking into them may cause damage.
Wipe down the body with a slightly damp cloth as needed, and dry with a soft dish towel.
GROSCHE Safe Water Project
GROSCHE is a Social Enterprise and a certified B Corp on a mission to do good in the world. For every product sold, GROSCHE creates 50+ days of safe drinking water for someone in need through the GROSCHE Safe Water Project.